RAMC - RAMC RMA Multi-Currency
Return Merchandise Authorization (RMA)
Current Version
Version 7.10.P3
Last Modified: May 02, 2023
Required Modules: RMA
Compatible with Sage Service Update: 2022 (7.10) PU3
Download .EXE Installer
Download User Manual
Have questions about this module? We're here to help.
Call (858) 550-5900
RAMC Multi-Currency Return Merchandise Authorization (RMA) for Sage 100 ERP
enhancement provides the Sage 100 ERP user with the ability to generate RMAs and Receipts in different currencies. The Generate Transactions feature allows creation of Sales Orders and Credit Memos in the RMA Currency and Purchase Orders and PO Returns in the Vendor Currency. Foreign Prices and Levels setup in the Inventory Management module may be used. Reports may be printed in Entry or Base Currency.
RELATED POSTS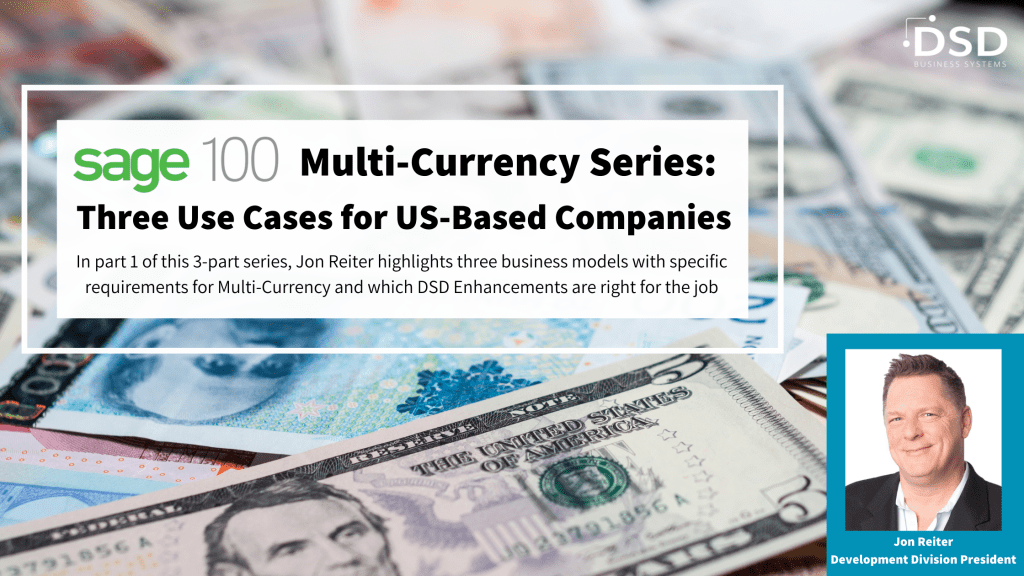 Sage 100 Multi-Currency Series: Three Use Cases for U.S. Based Companies
Jon Reiter explains three use cases in which certain US-Based companies have very specific needs for Multi-Currency and how DSD Enhancements can help.
Read More >>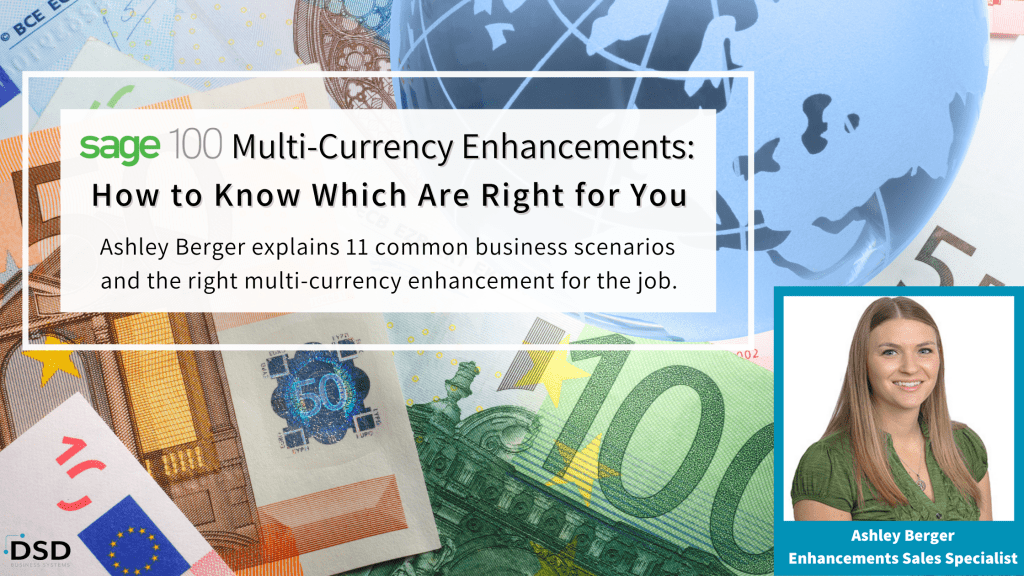 Sage 100 Multi-Currency Enhancements: How to Know Which Are Right for You
DSD Business Systems has 11 Multi-Currency modules available for Sage 100, and each one is specific to a different business need for foreign currency processing. Learn which one is right for you based on your organization's needs.
Read More >>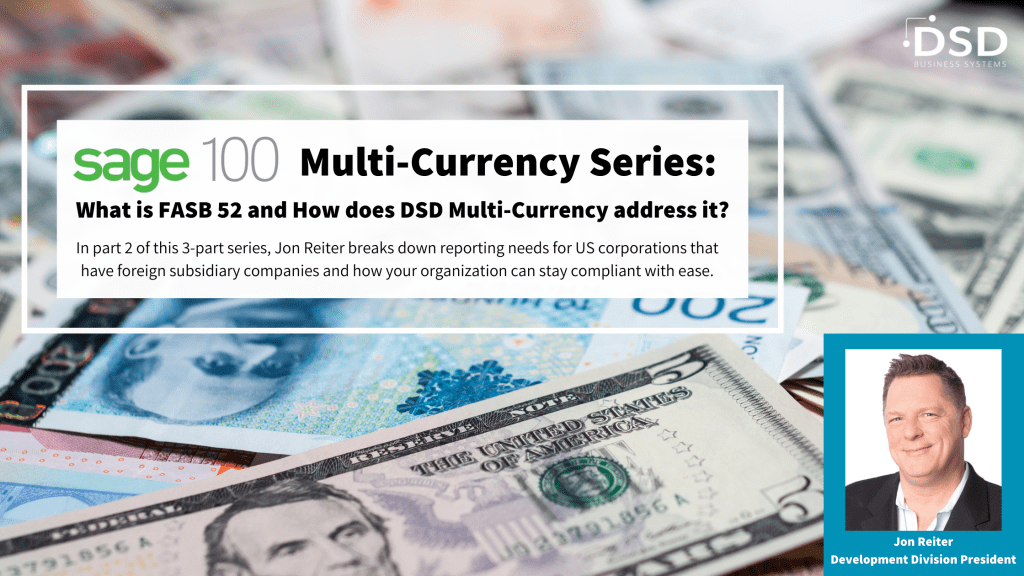 Sage 100 Multi-Currency Series: What is FASB 52 and How does DSD Multi-Currency address it?
Jon Reiter breaks down reporting needs for U.S. corporations that have foreign subsidiary companies and how those organizations can stay compliant with DSD Multi-Currency.
Read More >>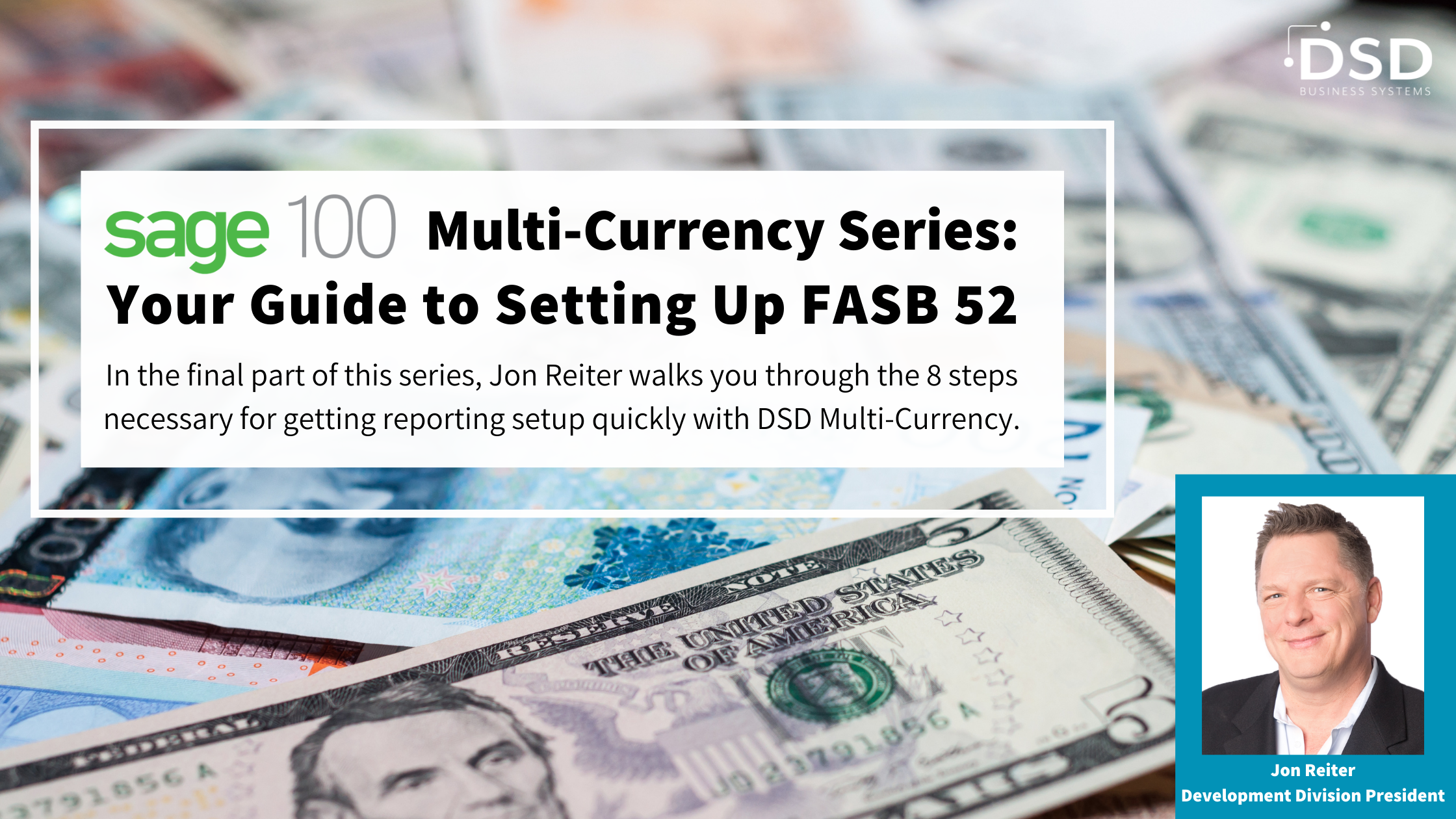 Sage 100 Multi-Currency Series: Your Guide in Setting Up FASB 52 in DSD Multi-Currency
Jon Reiter describes the "how" of FASB 52, specifically the exact steps in the setup of DSD's Multi-Currency FASB 52 reporting. See the eight easy steps in quickly setting up FASB 52.
Read More >>
Download the installer below.
Version
Compatible With
Last Modified
Manual (pdf)
Installer (exe)

Version 5.20.P5
Oct 30, 2019

Version 5.20.P4
Oct 30, 2019

Version 5.20.P3
Oct 30, 2019

Version 5.20.P1
Oct 30, 2019

Version 5.10.P6
Oct 30, 2019

Version 5.10.P5
Oct 30, 2019

Version 5.10.P4
Oct 30, 2019

Version 5.10.P3
Oct 30, 2019

Version 5.10.P1
Oct 30, 2019

Version 5.00.P8
Oct 30, 2019

Version 5.00.P7
Oct 30, 2019

Version 5.00.P5
Oct 30, 2019

Version 5.00.P3
Oct 30, 2019

Version 5.00.P2
Oct 30, 2019

Version 5.00.P1
Oct 30, 2019

Version 4.50.P6
Mar 19, 2014

Version 4.50.P5
Dec 26, 2012

Version 4.50.P4
Jul 18, 2012

Version 4.50.P3
Apr 03, 2012

Version 4.50.P2
Mar 26, 2012

Version 4.50.P1
Mar 26, 2012

Version 4.40.P9
Mar 08, 2017

Version 4.40.P8
Jan 19, 2012

Version 4.40.P7
Nov 18, 2011

Version 4.40.P6
Oct 05, 2011

Version 4.40.P5
Jul 08, 2016

Version 4.40.P4
Oct 05, 2011

Version 4.40.P3
Oct 05, 2011

Version 4.40.P2
Sep 02, 2011

Version 4.40.P1
Sep 02, 2011

Version 4.40
May 25, 2010

Version 4.30
Oct 29, 2010

Version 4.20
Feb 21, 2014
Subscription SRP
$1,265.00