GLMC - GLMC Multi-Currency General Ledger
General Ledger
Current Version
Version 7.10.P3
Last Modified: May 02, 2023
Required Modules: G/L
Compatible with Sage Service Update: 2022 (7.10) PU3
Download .EXE Installer
Download User Manual
Have questions about this module? We're here to help.
Call (858) 550-5900
Important:
The pricing shown is for v4.00 and greater systems only. Pricing for prior versions is higher because CUMC (Base Multi-Currency Module) features are included in GLMC before 4.00. Therefore, the cost of prior versions of GLMC is the price shown above plus the price of CUMC (part of the price of GLMC was split out to CUMC starting with 4.00).
GLMC Multi-Currency for Sage 100 ERP (MAS 90, MAS 200)
is invaluable for any international or multinational company. Reports, including standard and custom financial statements, can be printed in any currency, and at any override rate. Also if FASB52 is needed, they can be printed to FASB 52 requirements. The import and export of account balances and detail transactions can be done in any currency, with exchange rate conversions performed automatically.
Generate Financials in Any Currency: Financial Reports can be printed in any Currency.
Print Reports in Any Currency: Print any report in Base, FASB52 or Other Currency using As Posted or an Override Rate.
Generate Multi-Company Consolidated Financial Reports: You may generate a Custom Financial Report consolidating data from more than one company.
RELATED POSTS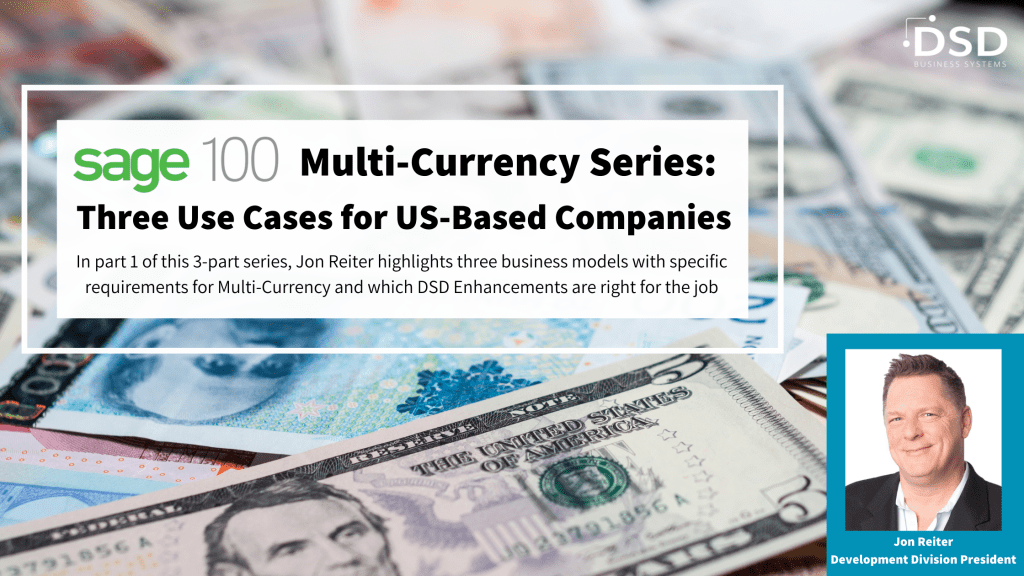 Sage 100 Multi-Currency Series: Three Use Cases for U.S. Based Companies
Jon Reiter explains three use cases in which certain US-Based companies have very specific needs for Multi-Currency and how DSD Enhancements can help.
Read More >>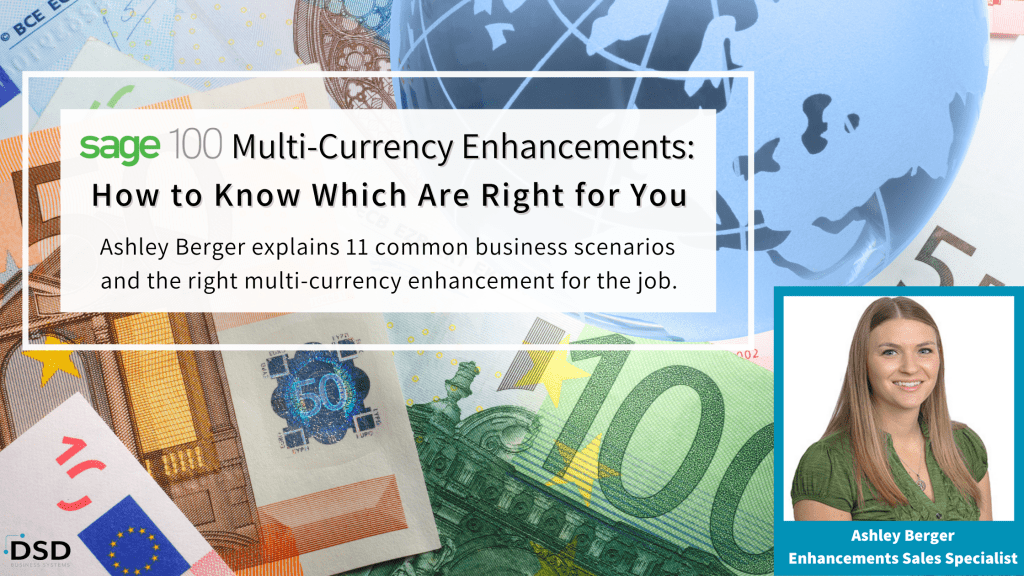 Sage 100 Multi-Currency Enhancements: How to Know Which Are Right for You
DSD Business Systems has 11 Multi-Currency modules available for Sage 100, and each one is specific to a different business need for foreign currency processing. Learn which one is right for you based on your organization's needs.
Read More >>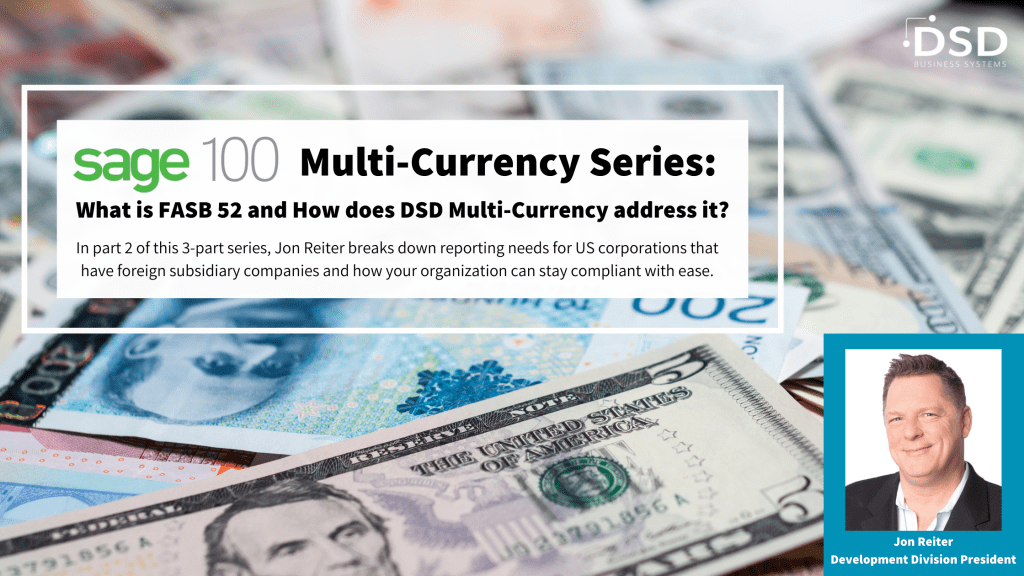 Sage 100 Multi-Currency Series: What is FASB 52 and How does DSD Multi-Currency address it?
Jon Reiter breaks down reporting needs for U.S. corporations that have foreign subsidiary companies and how those organizations can stay compliant with DSD Multi-Currency.
Read More >>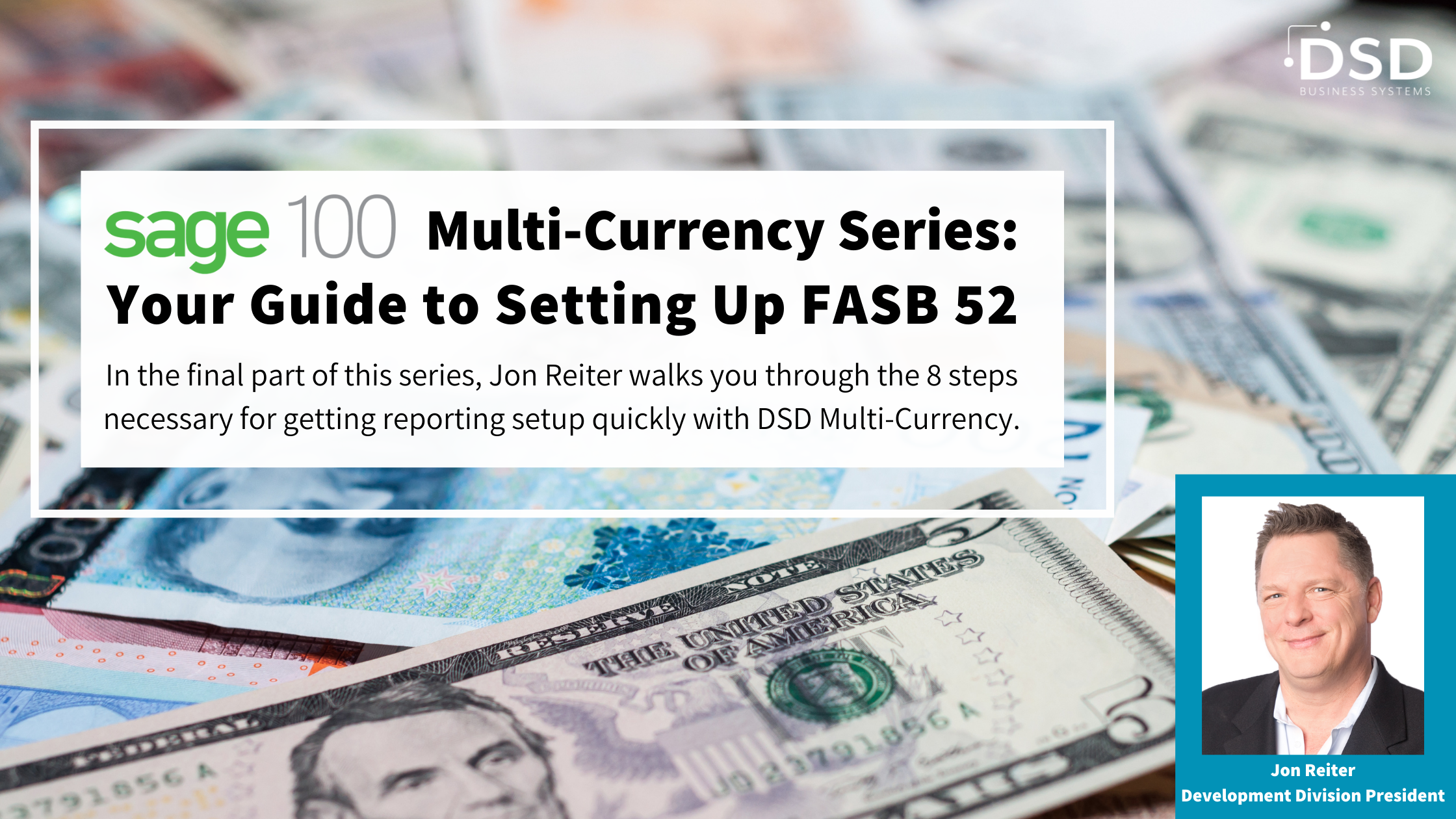 Sage 100 Multi-Currency Series: Your Guide in Setting Up FASB 52 in DSD Multi-Currency
Jon Reiter describes the "how" of FASB 52, specifically the exact steps in the setup of DSD's Multi-Currency FASB 52 reporting. See the eight easy steps in quickly setting up FASB 52.
Read More >>
Download the installer below.
Version
Compatible With
Last Modified
Manual (pdf)
Installer (exe)
Subscription SRP
$1,650.00