POMC - POMC Purchase Order Multi-Currency
Purchase Order
Current Version
Version 7.20.P1
Last Modified: Sep 15, 2023
Required Modules: P/O
Compatible with Sage Service Update: 2023 (7.20) PU1
Download .EXE Installer
Download User Manual
Have questions about this module? We're here to help.
Call (858) 550-5900
POMC Multi-Currency Purchase Order for Sage 100
is invaluable for companies that performs Purchase Order Processing involving international or foreign Vendors. Purchase Order Processing has been modified to allow Order, Receipt of Goods and Receipt of Invoice Entry, Inquiries and Report Printing in any currency. An Entry Currency and Display Currency may be established for each Vendor (in Accounts Payable). All address fields have been modified to accommodate international addresses.
A member of DSD's Multi-Currency family of Sage 100 ERP (MAS 90, MAS 200) enhancements, POMC integrates fully with DSD's IMMC Multi-Currency Inventory Management module. It must be used with the APMC Multi-Currency Accounts Payable and C/X Currency modules.
Ship To Country Field: A new field has been added to the Ship To Address to store a country name and it may be printed in all forms that include the Ship To Address.
Vendor Price Levels by Vendor by Currency: Set up Vendor Price Levels in any currency using the Foreign Cost setup in the Inventory Management module.
Automatic Reorder and Auto Orders by Vendor's Currency: Generate Automatic Reorder and Auto Order Purchase Orders only for Vendors with a specific Default Entry Currency.
Generate Automatic Purchase Orders in Vendor or System Currency: Specify if you want to generate the Purchase Orders in the Vendor's Default Entry Currency or in System Currency.
Use Foreign or System Costs and Breaks: You may generate the Entry Currency Purchase Orders using the Foreign Costs and Breaks set up for the Vendors and Items selected or you may select to convert the System Costs and Breaks to the Purchase Order Entry Currency.
Enter Transactions in Any Currency: You may enter Purchase Orders, Receipt of Goods, Receipt of Invoice and Return of Goods in the Vendor's default Entry Currency, or you may change the Entry Currency to any other established Currency.
Enter Transactions using Any Exchange Rate: You may use the currency Exchange Rate as of the transaction date or you may override the Exchange Rate.
Registers in System and Entry Currency: For audit purposes, the Multi-Currency system prints Purchase Order Registers and Journals in both the Entry Currencies and the System Currency using the appropriate Exchange Rates.
Receipt History Display in System or Entry Currency: Receipt History amounts are displayed in System Currency. They may also be displayed in Entry Currency using the Currency Color specified in Currency Code Maintenance in General Ledger.
Print Reports in Any Currency: Print any report in System, Vendor, Entry or Other Currency, using As Posted or Current Amounts, in either Buy, Sell, or an Override Rate.
Print Report Amounts Switching Commas and Decimal Point: Amounts in any Report switch commas and decimal point when printing as specified in the Printing Currency in Currency Code Maintenance in General Ledger.
RELATED POSTS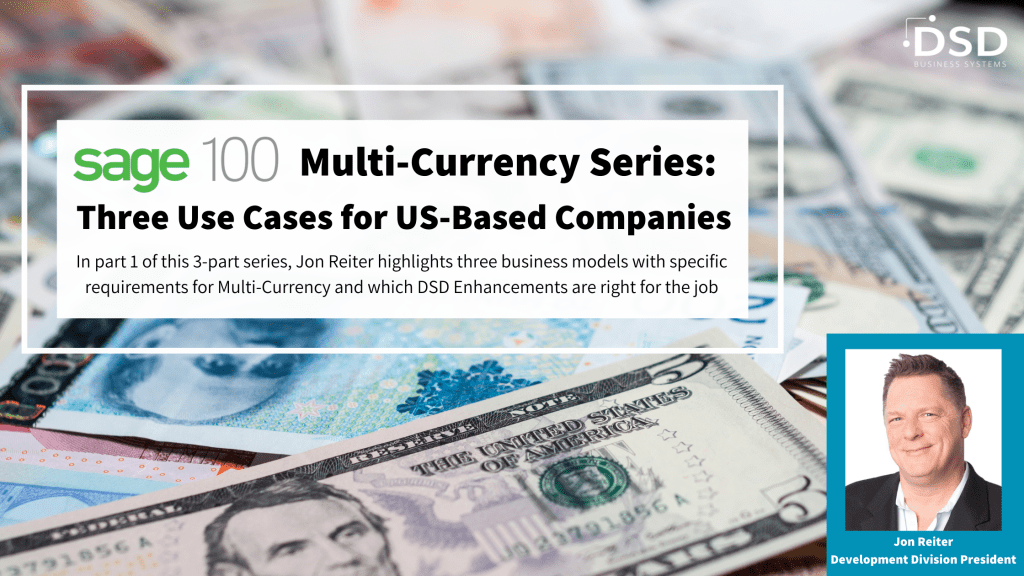 Sage 100 Multi-Currency Series: Three Use Cases for U.S. Based Companies
Jon Reiter explains three use cases in which certain US-Based companies have very specific needs for Multi-Currency and how DSD Enhancements can help.
Read More >>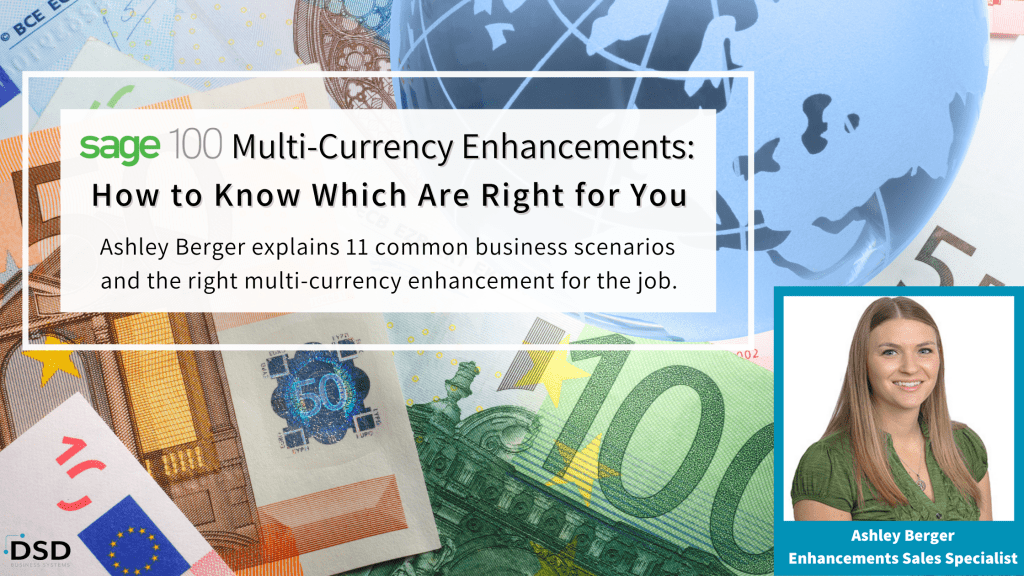 Sage 100 Multi-Currency Enhancements: How to Know Which Are Right for You
DSD Business Systems has 11 Multi-Currency modules available for Sage 100, and each one is specific to a different business need for foreign currency processing. Learn which one is right for you based on your organization's needs.
Read More >>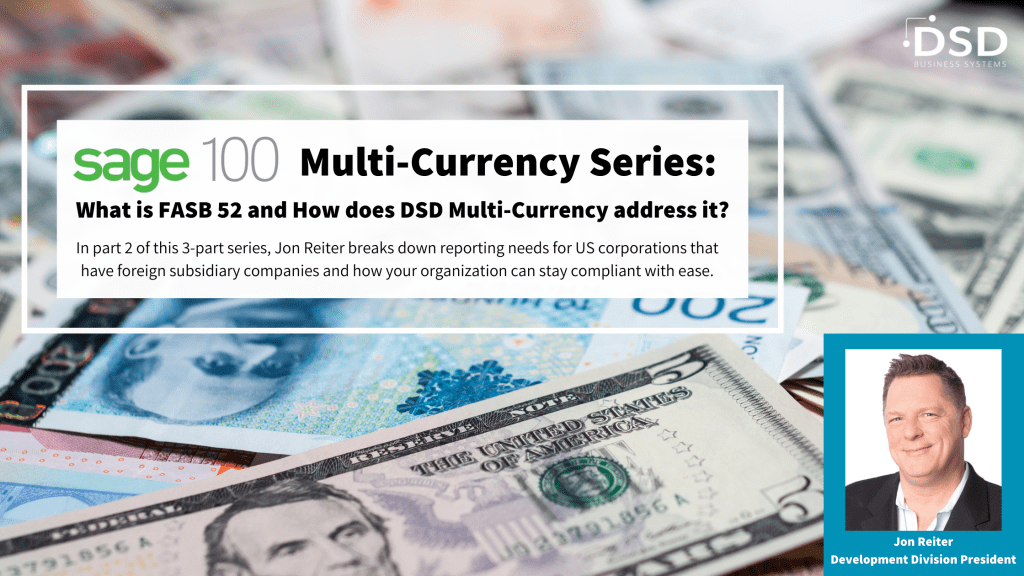 Sage 100 Multi-Currency Series: What is FASB 52 and How does DSD Multi-Currency address it?
Jon Reiter breaks down reporting needs for U.S. corporations that have foreign subsidiary companies and how those organizations can stay compliant with DSD Multi-Currency.
Read More >>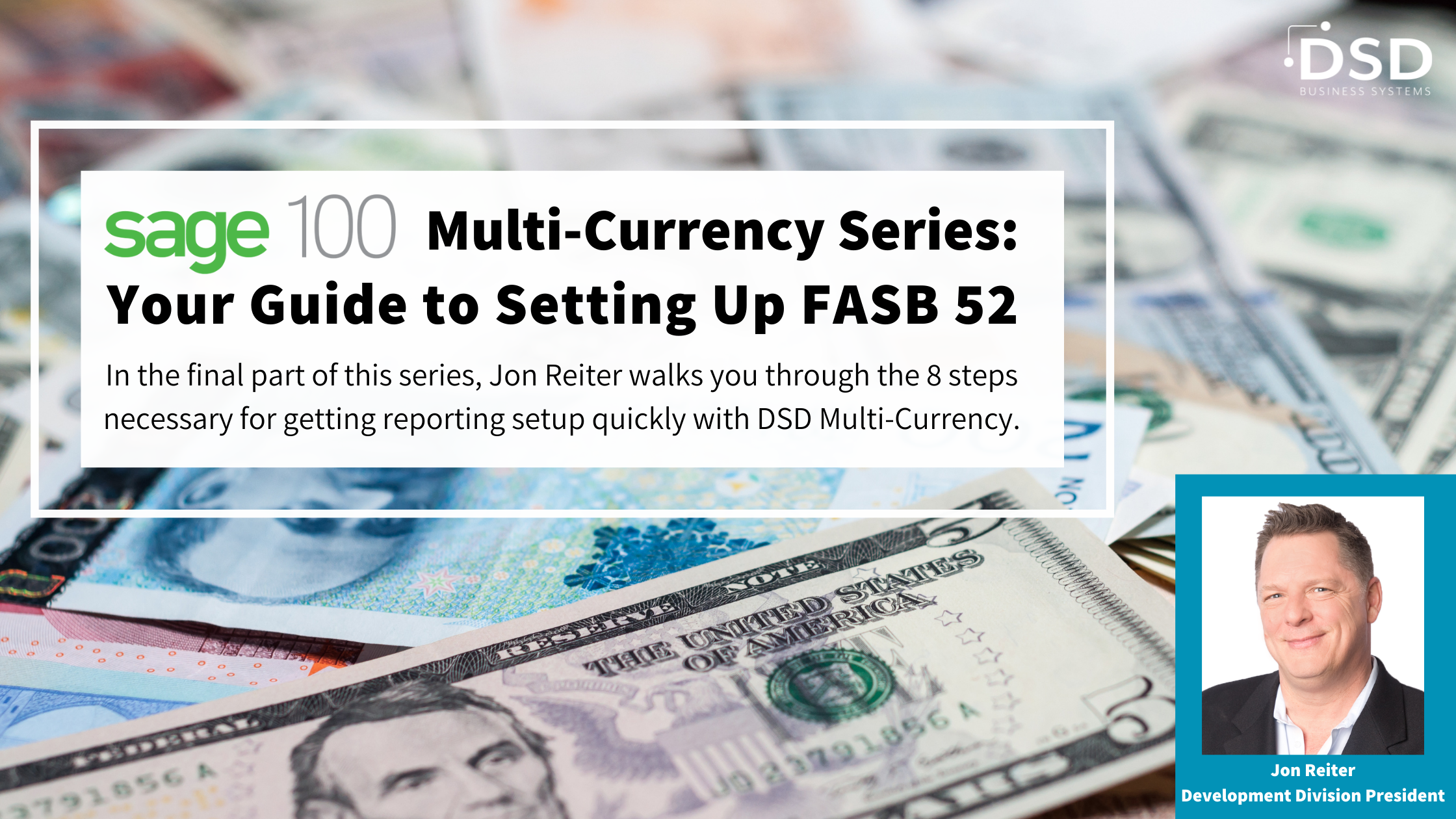 Sage 100 Multi-Currency Series: Your Guide in Setting Up FASB 52 in DSD Multi-Currency
Jon Reiter describes the "how" of FASB 52, specifically the exact steps in the setup of DSD's Multi-Currency FASB 52 reporting. See the eight easy steps in quickly setting up FASB 52.
Read More >>
Download the installer below.
Version
Compatible With
Last Modified
Manual (pdf)
Installer (exe)
Subscription SRP
$1,265.00