CUMC - Multi-Currency Base Module
Multi-Currency
Current Version
Version 7.20
Last Modified: Jun 26, 2023
Required Modules:
Compatible with Sage Service Update: 2023 (7.20) PU0, PU1, PU2
Download .EXE Installer
Download User Manual
Have questions about this module? We're here to help.
Call (858) 550-5900
CUMC Multi-Currency for Sage 100 ERP (MAS 90, MAS 200) is invaluable for any international or multinational company. For each currency, the information includes the currency symbol, the currency name and its plural (for check printing purposes). Exchange rates for each currency (up to 8 decimal places) can be maintained on a daily basis, and optionally updated automatically. A table of exchange rates and their effective dates is kept.


Multi-Currency provides the Sage 100 ERP (MAS 90, MAS 200) user with the ability to set up a different price and cost for each item per Currency. This enhancement is essential for any company transacting in more than one currency.
Base Currency: The currency in which all General Ledger transactions are maintained. The Base Currency is the "functional" or "local" currency of the primary economic environment in which each Company operates. You may specify a Round-off Account to use when printing General Ledger reports in another currency.
FASB 52 Foreign Currency Translation: You may define a Foreign Currency to be used when generating Foreign Translated Financial Statements conforming to FASB 52 requirements (normally USD in a non-USD Company). You may change the FASB 52 Currency at any time and recalculate the FASB 52 amounts. You specify an Equity Adjustment from Translation account to use when printing financials in the FASB 52 Currency.
Foreign Currency Codes: You may define an unlimited number of Foreign Currencies in which your company trades.
Currency Symbol: the standard 3 character ISO currency code and its currency symbol is maintained.
Exchange Rates: Maintain daily Exchange Rates for each currency to be used when converting foreign amounts to Base Currency during Accounts Payable, Purchase Order, Accounts Receivable, Bank Reconciliation, and Sales Order updates.
Currency Code Audit Report: An audit report keeps track of any changes, deletion or additions to the Currency Code Masterfile.
NOTE:
DSD Multi-Currency is NOT compatible with Sage Operations Management (JobOps)
RELATED POSTS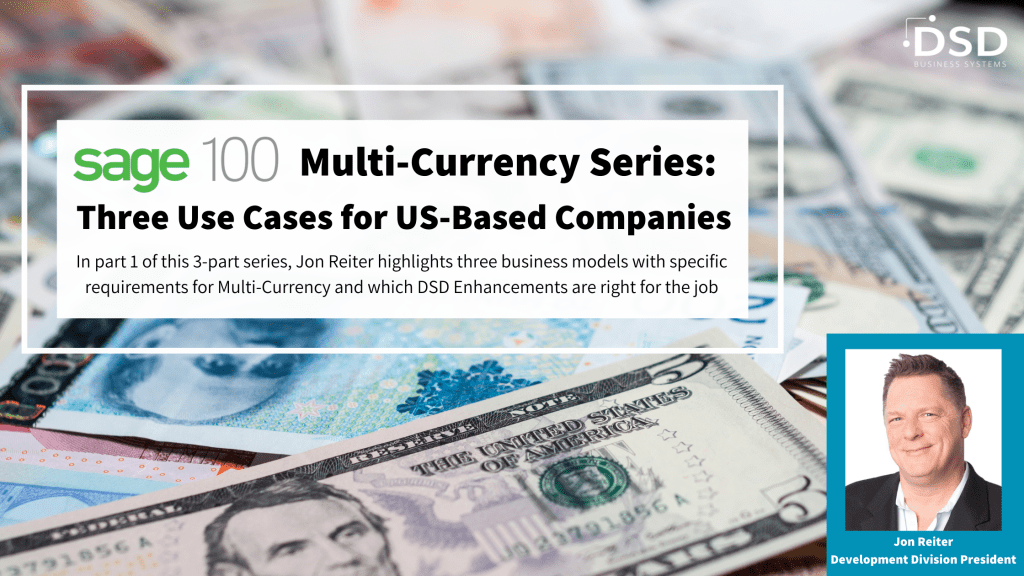 Sage 100 Multi-Currency Series: Three Use Cases for U.S. Based Companies
Jon Reiter explains three use cases in which certain US-Based companies have very specific needs for Multi-Currency and how DSD Enhancements can help.
Read More >>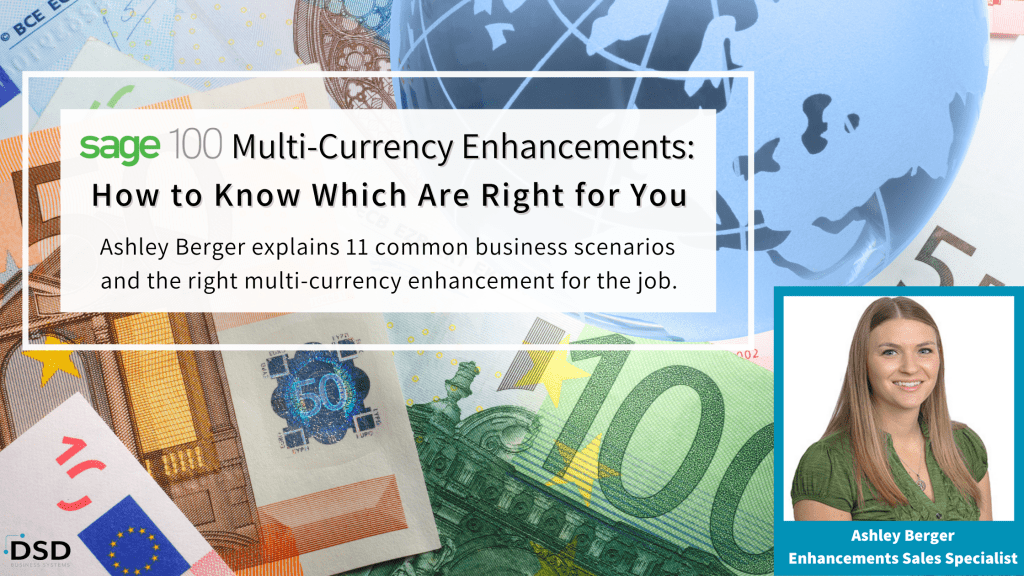 Sage 100 Multi-Currency Enhancements: How to Know Which Are Right for You
DSD Business Systems has 11 Multi-Currency modules available for Sage 100, and each one is specific to a different business need for foreign currency processing. Learn which one is right for you based on your organization's needs.
Read More >>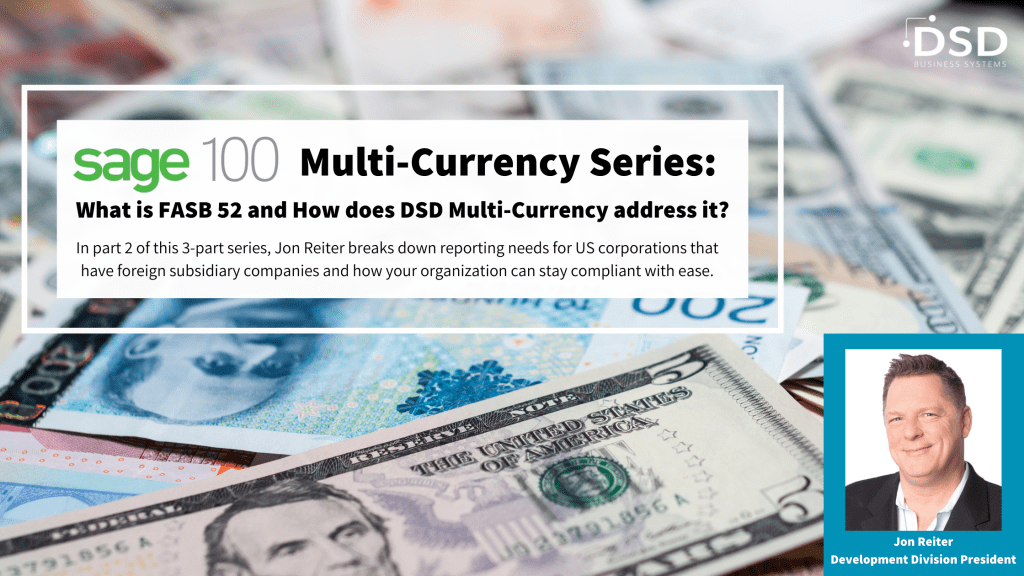 Sage 100 Multi-Currency Series: What is FASB 52 and How does DSD Multi-Currency address it?
Jon Reiter breaks down reporting needs for U.S. corporations that have foreign subsidiary companies and how those organizations can stay compliant with DSD Multi-Currency.
Read More >>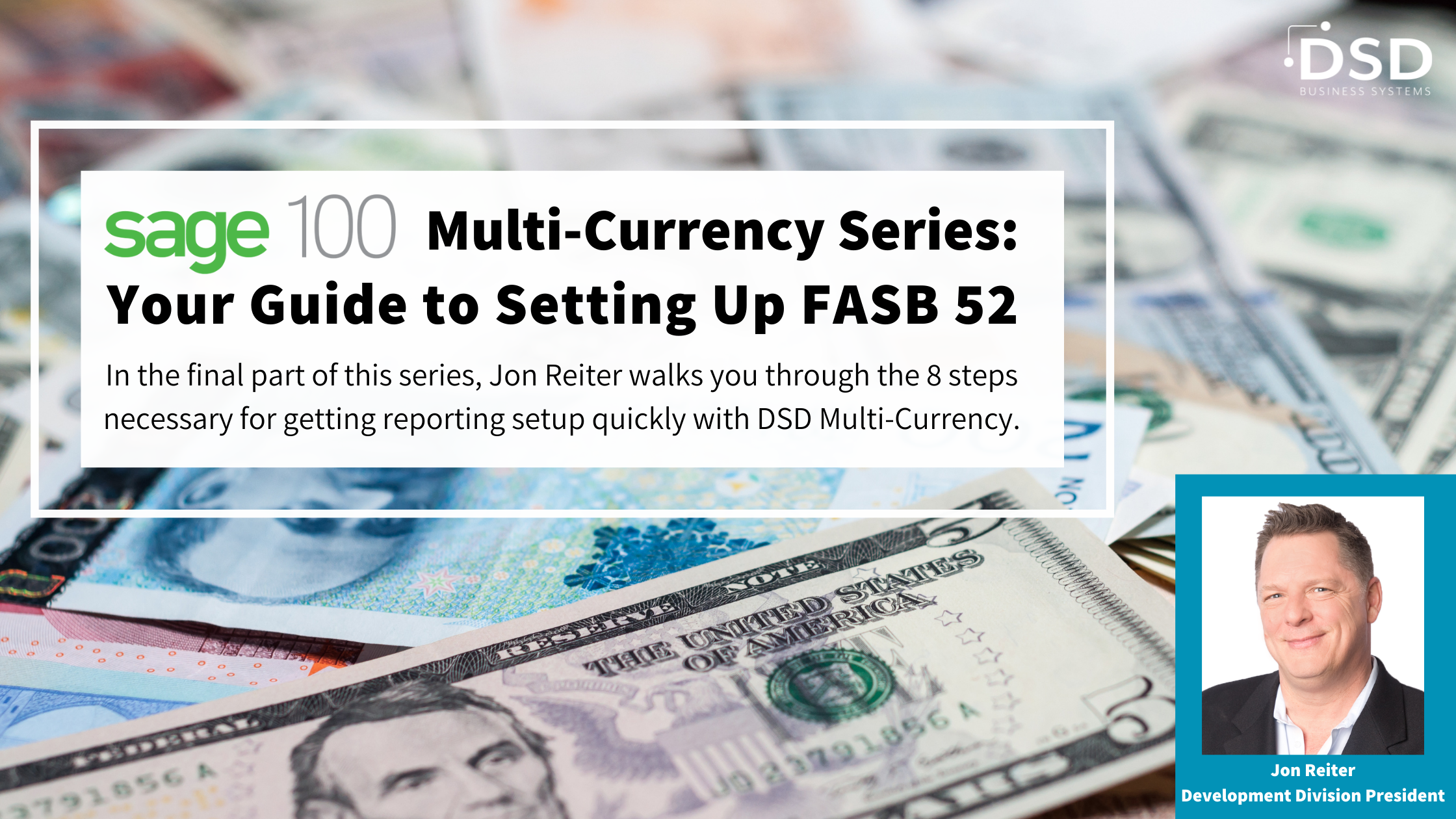 Sage 100 Multi-Currency Series: Your Guide in Setting Up FASB 52 in DSD Multi-Currency
Jon Reiter describes the "how" of FASB 52, specifically the exact steps in the setup of DSD's Multi-Currency FASB 52 reporting. See the eight easy steps in quickly setting up FASB 52.
Read More >>
Download the installer below.
Version
Compatible With
Last Modified
Manual (pdf)
Installer (exe)