MCCD - Canadian Multi-Currency Demo Data
Demo Data
Current Version
Version 7.10
Last Modified: Jan 06, 2023
Required Modules:
Compatible with Sage Service Update: 2022 (7.10) PU0, PU1, PU2, PU3
Download .EXE Installer
Download User Manual
Have questions about this module? We're here to help.
Call (858) 550-5900
Multi-Currency Canadian Demo Data (MCCD)
for Sage 100 ERP
contains demonstration data for the "ABC" company that has already been configured for Multi-Currency. "CAD" is the Base currency, and 4 foreign currencies are defined ("USD", "GBP", "EUR"," MXN"). Specific Vendors and Customers are defined to use these Currency Codes.
Important:
This contains ABC company demo data files only, it does not contain any Multi-Currency programs, you must also download the program modules you want to demo.


Installing and Using MC Demo Data
Important! You must install the Multi-currency modules as well as the demo data. We get support calls because people install just the demo data, without the modules.
1. Install standard Sage 100 ERP (MAS 90, MAS 200) and ABC Demo Data.
2. Run Sage 100 ERP (MAS 90, MAS 200) to fully finish the standard installation procedure. Go to Library Master/ Security/ Product Registration. Make sure the Company Name and Registration ID are not blank as this is required for the DSD module registration, even in Demo mode.
3. Download and install each of the DSD Multi-Currency modules and documentation that you wish to demo. (Links are available in the following table.) All are self-extracting executables. When installing any enhancement module, you must agree to the License Agreement and point the installer to your Sage 100 ERP installation directory.
4. Download and install the MCCD module and read the accompanying documentation.
5. Run Sage 100 ERP. You will see the installation of each enhancement module. Access the Setup menu and Options for each accounting application you plan to demo to trigger the DSD Activation Wizard, which will allow a Demo Mode for 30 days.
Note:
All Period End Processing is disabled in Demo mode registration.
6. Read the documentation for each module and for the MC Canadian Demo Data.
RELATED POSTS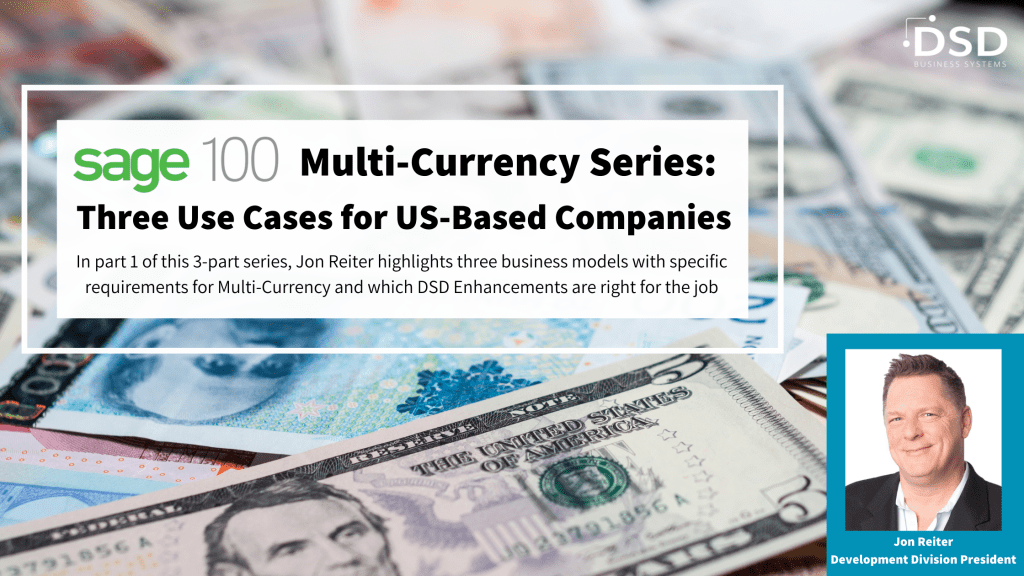 Sage 100 Multi-Currency Series: Three Use Cases for U.S. Based Companies
Jon Reiter explains three use cases in which certain US-Based companies have very specific needs for Multi-Currency and how DSD Enhancements can help.
Read More >>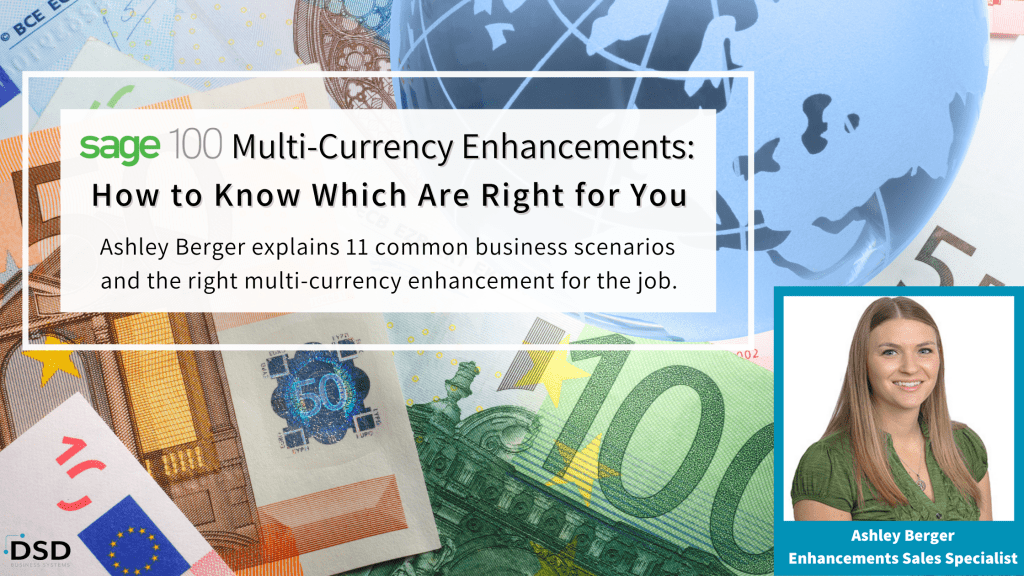 Sage 100 Multi-Currency Enhancements: How to Know Which Are Right for You
DSD Business Systems has 11 Multi-Currency modules available for Sage 100, and each one is specific to a different business need for foreign currency processing. Learn which one is right for you based on your organization's needs.
Read More >>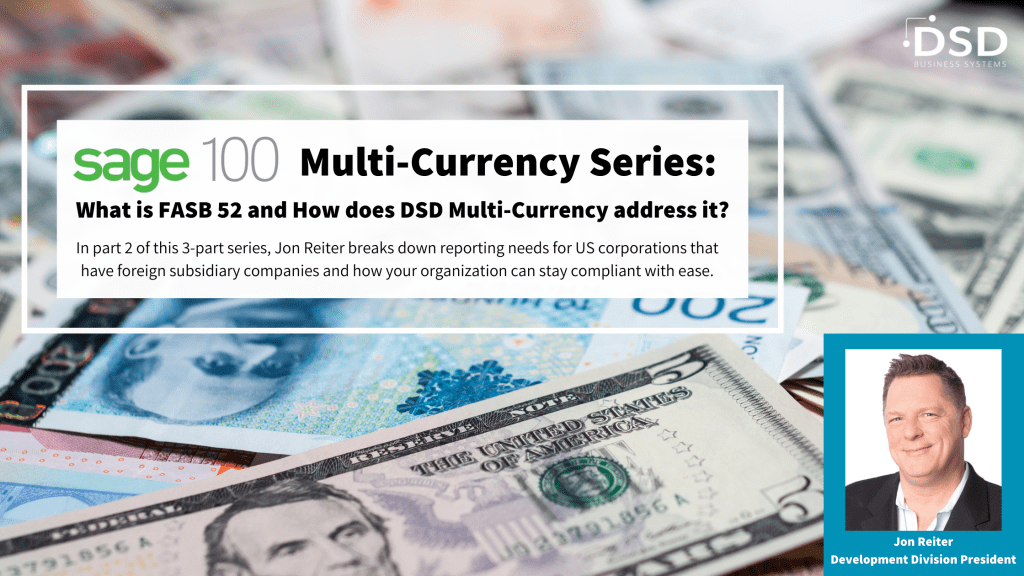 Sage 100 Multi-Currency Series: What is FASB 52 and How does DSD Multi-Currency address it?
Jon Reiter breaks down reporting needs for U.S. corporations that have foreign subsidiary companies and how those organizations can stay compliant with DSD Multi-Currency.
Read More >>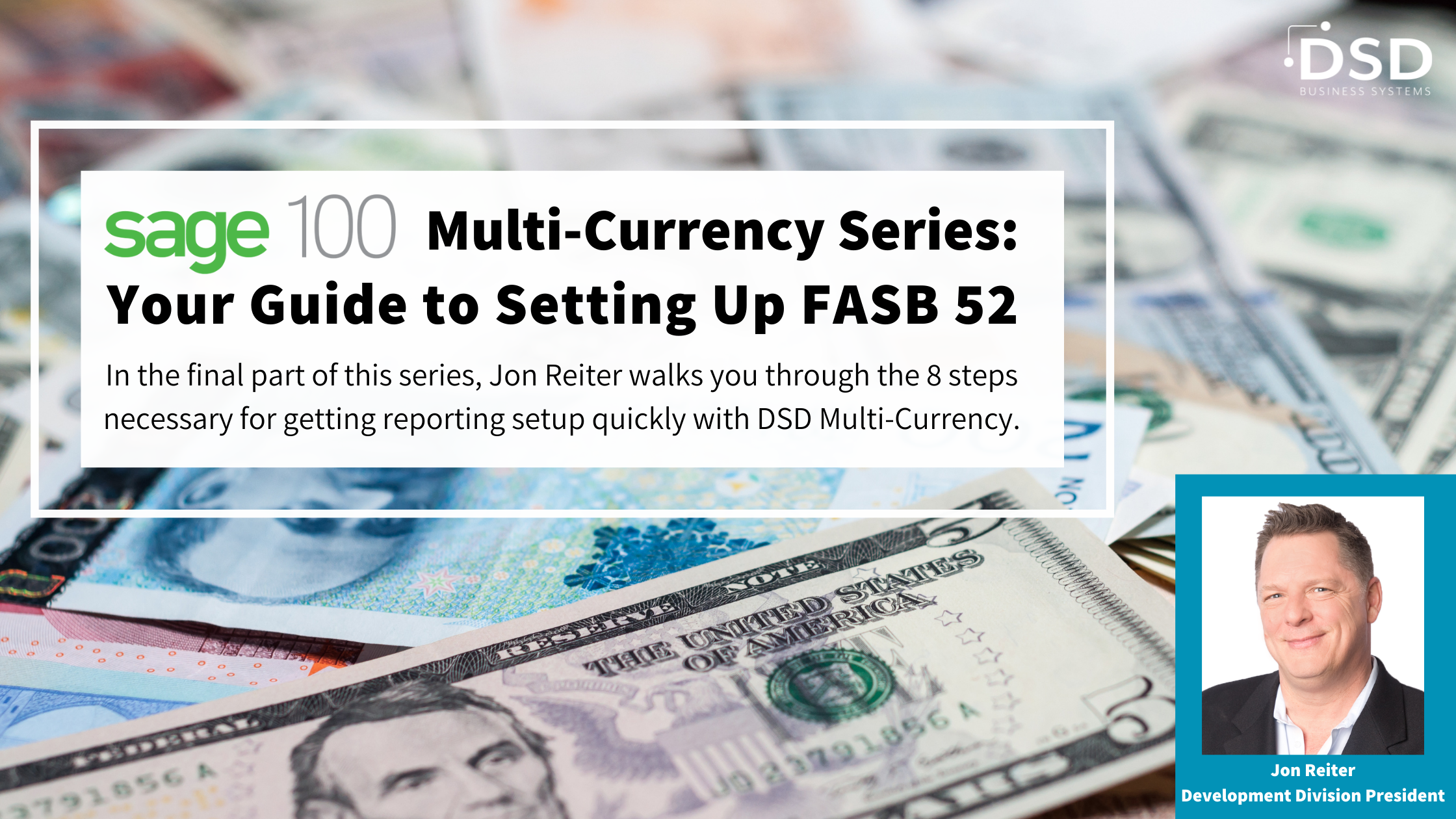 Sage 100 Multi-Currency Series: Your Guide in Setting Up FASB 52 in DSD Multi-Currency
Jon Reiter describes the "how" of FASB 52, specifically the exact steps in the setup of DSD's Multi-Currency FASB 52 reporting. See the eight easy steps in quickly setting up FASB 52.
Read More >>
Download the installer below.
Version
Compatible With
Last Modified
Manual (pdf)
Installer (exe)